What is Infertility?
Infertility is a condition in which a couple is unable to conceive a child after regulary trying for at least one year, or six months if a woman is over 35 years old. Women who are able to become pregnant, but have difficulty staying pregnant may also be infertile. Infertility is a condition that affects both men and women's ability to conceive. 
What are the symptoms of Infertility in women?
The primary symptom of Infertility is not being able to get pregnant. In women,other symptoms of infertility include: 
Abnormal periods where bleeding is heavier or lighter than usual
Irregular periods 
No periods (never having a period, or periods suddenly stop)
Painful periods (back pain, pelvic pain, and cramping may happen)
Skin changes, including more acne
Changes in sexual drive and desire
Dark hair growth on the lips, chest, and chin
Loss of hair or thinning hair
Weight gain
What are the symptoms of Infertility in men?

In most cases, the symptoms in men go unnoticed until a man tries to conceive. Those symptoms may include: 
Changes in hair growth
Changes in sexual drive and desire
Pain, lump, or swelling in the testicles
Problems with erections and ejaculation
Small, firm testicles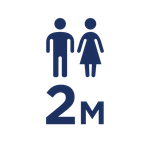 2 Million couples in the United States are infertile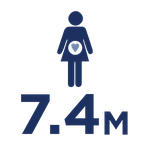 7.4 million women between the ages of 15 and 44 have usedinfertility services at least once in their lifetime. 
What causes Infertility in women?

Infertility in women is most commonly caused by problems with ovulation. These problems are often caused by the following conditions:
Polycystic Ovarian Syndrome (PCOS) - the most common hormone imbalance problem in women that causes problems with ovulation. 
Primary Ovarian Insufficiency (POI) – occurs there is a loss of normal function in the ovaries before the age of 40. POI is not the same as premature menopause.
Other causes are less common but may include:
Blocked fallopian tubes - due to pelvic inflammatory disease, endometriosis, or surgery for an ectopic pregnancy
Physical problems with the uterus or cervix
Uterine fibroids - non-cancerous clumps of tissue and muscle on the walls of the uterus
Cancer and its treatment - Certain cancers such as female reproductive cancers often impair female fertility, and both radiation and chemotherapy may affect fertility.
What causes Infertility in men?
In some cases, men can be born with problems that affect their sperm, however, other problems often start later in life. These causes may include:
Varicocele - when the veins on a man's testicle(s) are too large, this heats the testicles which can affect the number or shape of the sperm.
Abnormal sperm production or function - due to undescended testicles, genetic defects, health problems such as diabetes or infections such as chlamydia, gonorrhea, mumps or HIV.
Movement of the sperm - injuries or other damage to the reproductive system block the sperm. 
Genetic diseases such as cystic fibrosis
Overexposure to certain environmental factors - cigarette smoking, alcohol, marijuana or taking certain medications
Damage related to cancer and its treatment, including radiation or chemotherapy.
 
How is Infertility Treated?
There are various methods of treatment available to help couples with fertility. Treatment options include medication, surgery, intrauterine insemination/artificial insemination or assisted reproductive technology (ART). In many cases, medication and intrauterine insemination are used at the same time. Treatments include:
Intraunterine Insemination (IUI) – A sperm sample is given and placed directly into the woman's uterus to increase chances of fertilization
In Vitro Fertilization (IVF) – Egg and sperm are combined manually in a laboratory dish and the embryo is then transferred into the uterus
Intracytoplasmic sperm injection (ICSI) – The act of injecting sperm into the cytoplasm of eggs so they can be used for IVF
Zygote Intrafallopian Transfer (ZIFT) – Egg and sperm are combined manually in a laboratory dish and the embryo is then transferred into the fallopian tube
Gamete Intrafallopian Transfer (GIFT) – The woman's eggs are removed and combined with sperm then immediately implanted into the fallopian tubes

Specialty Medications – Various medications are available to patients to help stimulate ovulation, increase the number of mature eggs or to help prepare a woman's uterus for an embryo transfer. Gonadotropin-releasing hormones are a specialty medication used to treat infertility. 
How does Noble help me manage my Infertility?
At Noble Health Services, we offer a variety of medications to help you treat your symptoms. We help you manage your condition through our Signature Care Program, which includes medication delivery, 24/7/365 on-call support, benefits and co-pay assistance and more. For more information on what Infertility medications we offer, please view the Infertility  enrollment form  
For more information about infertility contact the following resources: